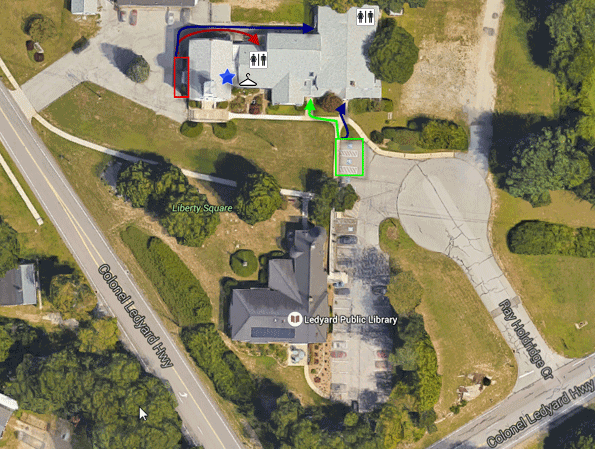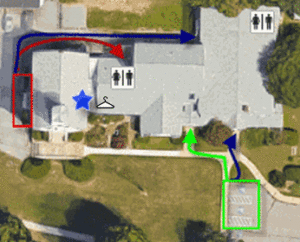 Handicapped parking spaces are available in both lots, from Colonel Ledyard Highway or from Route 117. To attend worship, the best accessible entrance is from the handicapped parking in the lot by the library (green arrow).  This main entrance leads to the newer section, opening into a slate foyer without steps.  For worship services in the sanctuary, there is a chair lift (blue star on map).  Help with operating it is readily available.  There is also handicapped parking next to the historic sanctuary building.  The entrance that is accessible from there is indicated by a red arrow.
We have a manual wheelchair available to use to get around within the church.  It is located in the coat room (see maps).  Just ask for assistance.
For events like the pancake breakfast and Christmas bazaar, the entrances into the fellowship hall are best (blue arrows).  (The fellowship hall is the single-story building at the opposite end from the historic section.)
Two accessible bathrooms are available.  Directional signs within the church building indicate the locations of various rooms.
Two areas within our church building are not wheelchair-accessible, unfortunately. The music room and sanctuary balcony, used by the choirs, are each up one flight of stairs.  We have explored various ways to solve this problem, but have not implemented any yet.