We are an Open & Affirming church, and a Level Two Green Church.  If you are local, we sincerely hope to welcome you to our physical church.  If you are far away, we hope you find our stories of faith comforting and inspiring.  Either way, we wish all of God's abundant blessings for you and your loved ones.  "The LORD bless you and keep you; the LORD make his face shine upon you and be gracious to you; the LORD lift up His countenance upon you and give you peace." [Numbers 6:24-26]
Where & When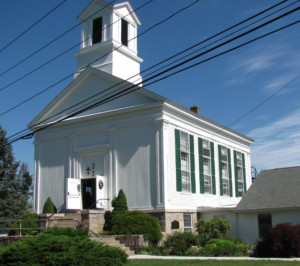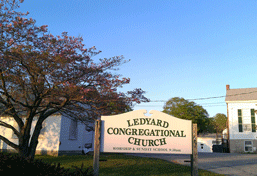 722 Colonel Ledyard Hwy, Ledyard, CT 06339.  Route 117 at Col. Ledyard Hwy; enter parking from either road.

Worship is Sundays 9:30 – 10:30 am.   Sunday School begins halfway through worship (ages 3 – 8th grade).  Your children are welcome in worship, Sunday School and the Toy Room, whatever you like.  There is a changing table in one of the restrooms.
The Pastor is Rev. Dr. Catriona Lanza, revgrant.LCC@snet.net.  The Church Office is open Monday-Thursday 8am-noon, ledyard.cong.church@snet.net,

860.464.9926 (Melanie Brule, Office Administrative Assistant).  The Music Director is Marty Wirt and the Bell Choir Director is Deb Betz.

The church is handicapped accessible.   For more information:  What to expect in worship,  Baptism, Outdoor worship, Accessibility, Photo gallery, Testimonials.
(A new feature coming soon:  To receive weekly emails describing the upcoming worship service and other church activities, sign up here.)
Jesus asked his disciple Peter three times, "Do you love me?"
Peter felt hurt that he was asked three times! "And he said to him, 'Lord, you know everything; you know that I love you.'
Jesus said to him, 'Feed my sheep'." (John 21:17, New Revised Std. version of the Bible)
We felt called to act on Jesus' commandment to care for his people by taking on the responsibility of hosting the Ledyard Food Pantry.  We totally renovated our outbuilding by the Route 117 parking lot to create a pleasant, welcoming space.  We increased the hours it is open, including evening and weekend hours, and we increased the types of products it provides.  You are welcome to join us in this good mission, whoever you are!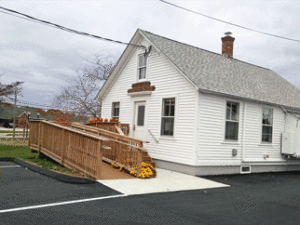 Open:
Tuesday 9-11 am
Wednesday 9-11 am
Thursday 9-11 am and 4-6 pm
Saturday 9-11 am
May God bless all who enter here.
Questions?  Call 860.464.0314 or email ledyardfoodpantry@gmail.com.  On Facebook too!